The True and Real Theresa Roemer
Roemer debuts her True & Real spring
collection in Houston this week.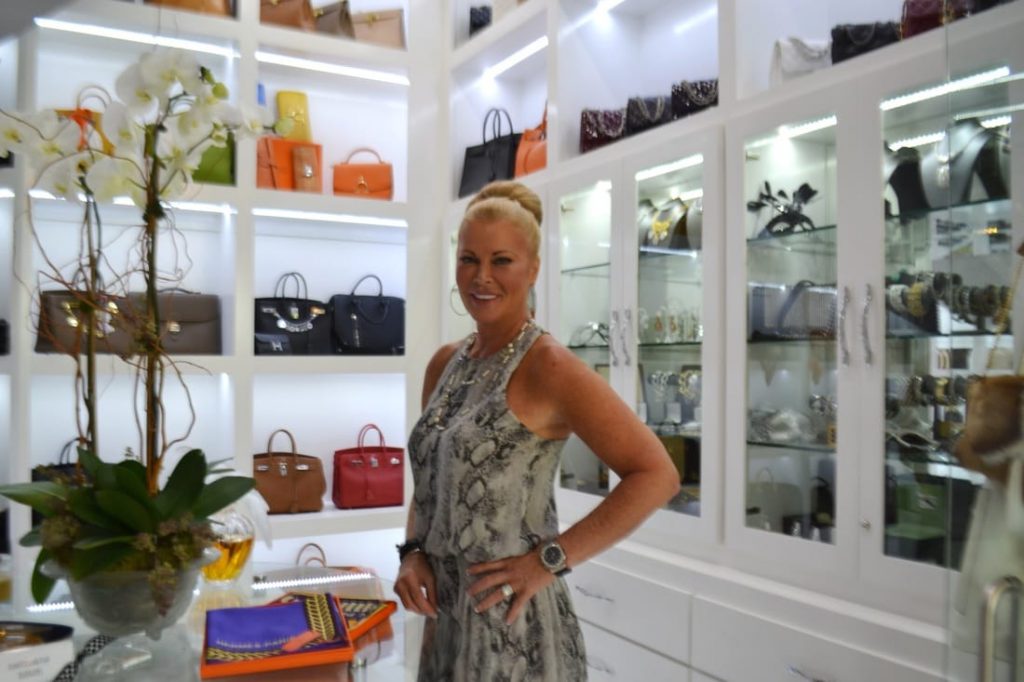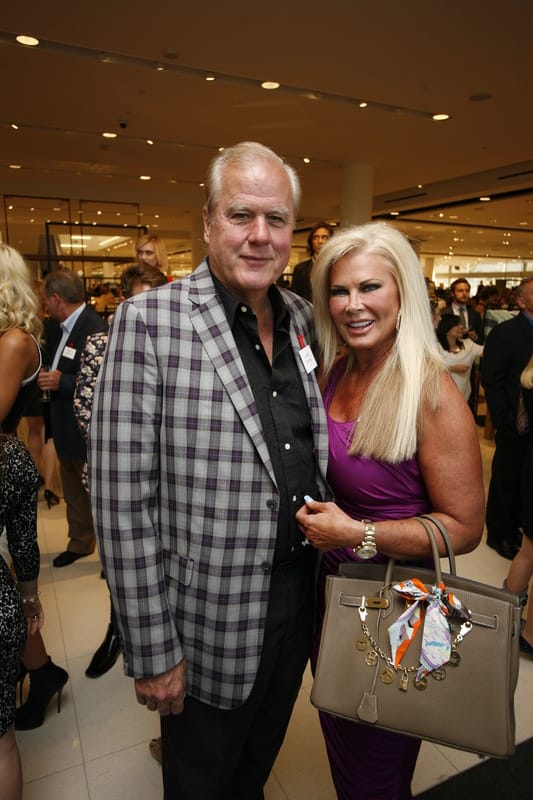 2/5/15 By Michelle Leigh Smith
Theresa Roemer remains true to her resolute Nebraska roots .
"I'm not afraid to step outside the box," she says. "I feel like it's my life and I'll do what I want."
The tall, blonde former Mrs. Texas grew up in Ainsworth, Nebraska with two sisters and a brother who died of a heart attack at age 23. No wonder she works 16 hours a day, making every minute count.
Her mom and dad divorced when Theresa was one. She grew up milking cows, painting fences and working her mother's ranch with the same intense work ethic she engages today. She learned to teach aerobics by age 18, which led to her opening her own line of fitness studios in Wyoming after she was divorced with two children in her 20s.
"I'm not like anyone else in my family, and in fact I am the complete opposite of my mother, Doris, in fashion sense. Mom is not into candles or fragrance – she's allergic to everything. Mom was wearing old lady polyester pantsuits by the time she was 40. She sends me little cards, saying she's proud of me."
As I pulled into the circular drive, past the water fountain, in her gated community in The Woodlands, I hunted for a spot where my humble Honda would not block or distract from the Bentley or the snow white Rolls Royce, with the license plate that read TRoemer. The front door stood wide open, welcoming wives of oil and gas executives from ExxonMobil, PriceWaterhouseCoopers and BP, both from the United States and the United Kingdom.
Tashina Meyers, Roemer's daughter, models the guests' selections if they do not wish to try on themselves. She slips on a black chiffon cocktail dress in her mom's dressing room, where three inviting gray velour doggy beds with Tempur-Pedic cushions sit next to the bathtub. Roemer says she inherited Precious, an African Grey parrot, and Maggie, a Belgian Bouvier, when she married Lamar. Their three dogs came later, including the Black Russian Terrier named Chanel, "who is like a small Shetland pony, and two Havenese dogs, Miki and Tiki when she married Lamar. We also have Cadillac Jack, a Maine Coon cat, who enjoys remaining elusive."
Meyers moved to The Woodlands to help her famous mother. "I have my cosmetology license and I did my mom's hair for today," she says. "She calls the sleek blonde top knot her on-the-go look." There is a beauty salon within the Roemer home and Tashina says she also cuts her stepfather, oilman Lamar Roemer's hair.
Rochelle Stevens selected a transitional gray, white and black blouse from the fall collection that complimented her long periwinkle nails. "I live between here and London," says Stevens. "It's evident that a lot of thought has been put into this collection."
After touring the closet, Stevens and her friend Linda came down the staircase, in awe. "I'm flabbergasted," says Stevens, whose husband is with ExxonMobil. What strikes the first time visitor is the sheer size of not only the closet, but the foyer, which is museum like in scope and textures. The kitchen seems to be the size of a basketball court, with various islands topped with Absolute Black Granite. On top of the counters sit truffles, champagne and red wine. Another massive island displays an expanse of prosciutto, asparagus, salads and grains.
Woodlands resident Charlotte Strange liked the lightweight black shawl in the jersey knit. "The reason I designed these in the jersey knit is because these clothes are for Houston," explains Roemer. "Even though it is 100 degrees outside, the restaurants are usually 60 degrees. You can throw this in your purse, it won't wrinkle; and pull it out when you feel a chill."
Janet Wong liked the ponte knit. "I travel a lot, so I look for this kind of versatility," she says. Martha Brooks said she liked everything, the house, the closet, Lamar Roemer's pet parrot, Precious, and especially the to-die-for chocolates. "You can say I went eating a truffle," Brooks says.
"My ultimate goal was to create a cohesive collection of interchangeable basic pieces to help women dress for day to evening, with ready-to-go looks," Roemer says. Drapey tunics to flatter any body type and fun jersey knit blouses in black, stone or heather grey pair with skinny New Yorker pants. Roemer points out, "See how the ruching on this blouse will hide any imperfection?"
Her full silk charmeuse Country Club Pant looks best on a tall silhouette and comes in burgundy and taupe gold. "We stick with a basic solid pattern, then add in a small amount of print." Roemer says.
How does she begin?
"I like to do some sketching," Roemer says. "I get an idea or vision of what I want something to look like. It's kind of like when I flip houses. I can walk into an ugly house, and immediately visualize its beautiful and I go and make that happen."
As the women shopped and sipped mimosas, Roemer reminded them that a portion of their purchase dollars would go to The Greater Woodlands Public Art Foundation. "This is a fundraiser to help take care of all the sculptures in the Woodlands," she explains. "They are debuting a new sculpture in May, called The Way Home, which will stand as a Veterans Memorial monument. This is a foundation that does a lot of wonderful work."
Roemer is very committed to The Woodlands and in fact delayed her debut last fall due to the death of the director of the charity she was donating much of her proceeds to. "We didn't get to debut it like we wanted, it was supposed to debut at Woodlands Fashion Show in September, but could not because the director of charity we were donating to passed away. But we've gotten a lot of wonderful feedback and I have been able to continue donations to several of the charities I feel passionate about, including Child Legacy International and the American Heart Association."
Roemer sits on board of directors for Child Legacy International, a non profit dedicated to saving lives by establishing healthcare facilities in rural areas, treating Africa's most disadvantaged men, women, and children. Child Legacy International works to provide safe, stable water sources for people in Africa to improve economic opportunity for women and help families live longer and prosper.
Theresa Roemer True and Real adds a new collection this month, with the debut of her bath and fragrance brand. Along with her signature truffles delicacies, the candles and the apparel, the bath line offers women yet another way to feel pampered and adored. "It's been selling nicely, and the spring line has taken off alike a rocket. We did the trunk show with the candles at Neiman's and it sold out. It's been great!
"Now we want to roll out the bath salts." Her enthusiasm leads one to ask, what can be next?
"I'm working on a Charity App that will help charities bring in more money," reveals Roemer. "It will be called the True & Real Charity App and will be out in four months."
Stay up to date with Roemer at www.true-and-real.com